30 November 2018
The Smogathon 2018 is now over and the most innovative clean air projects in the world have been selected.
The Grand Finale of the Smogathon international contest took place on November 19 in Krakow. The international jury presented three awards and a special implementation prize. The first prize of $15,000 was given to an Indian-American team Takachar, solving the problem of inefficient biomass combustion by converting it into a more cost-effective fuel. "Thanks to our solution farmers can not only stop contributing to air pollution due to biomass combustion but also to increase their income by selling the converted fuel", says Vidyut Mohar, the co-creator of the solution.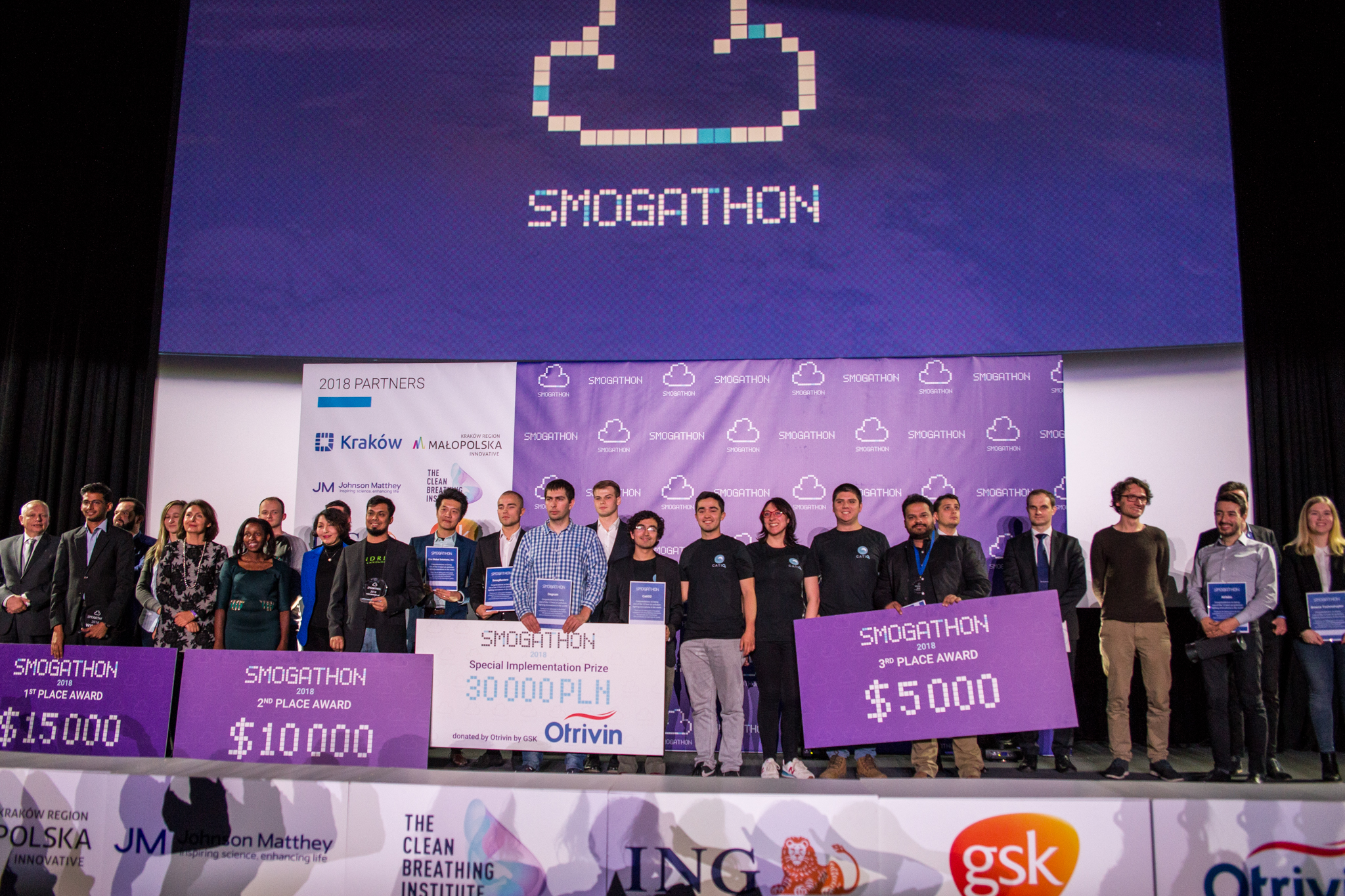 The second prize was awarded to Indrio Technologies, the team led by two assistant professors at the Stanford University. Their device reduces pollution caused mainly by nitric oxide. The last place on the podium and $5,000 was secured by Pi Green Tech Solutions, the team from Pune City in India. Their product – Corbon Cutting Machine – was recognized for reducing dust emission and allowing it to be used later, e.g. for ink production.
Along with these awards, Otrivin (GSK) funded the Special Implementation Prize of PLN 30,000. It was awarded to Degrum, the manufacturer of the antismog bus and tram stops. Jakub Szymanowicz, who represented the company at the Grand Finale, said: "We are overjoyed to receive the implementation prize from GSK, Otrivin. We hope that the award will enable us to reach the next milestone for our start-up, which is to build the first product. This will let us verify the lab tests results in practice. We want our stops to be built in all the cities in Poland, Europe and worldwide that deal with pollution".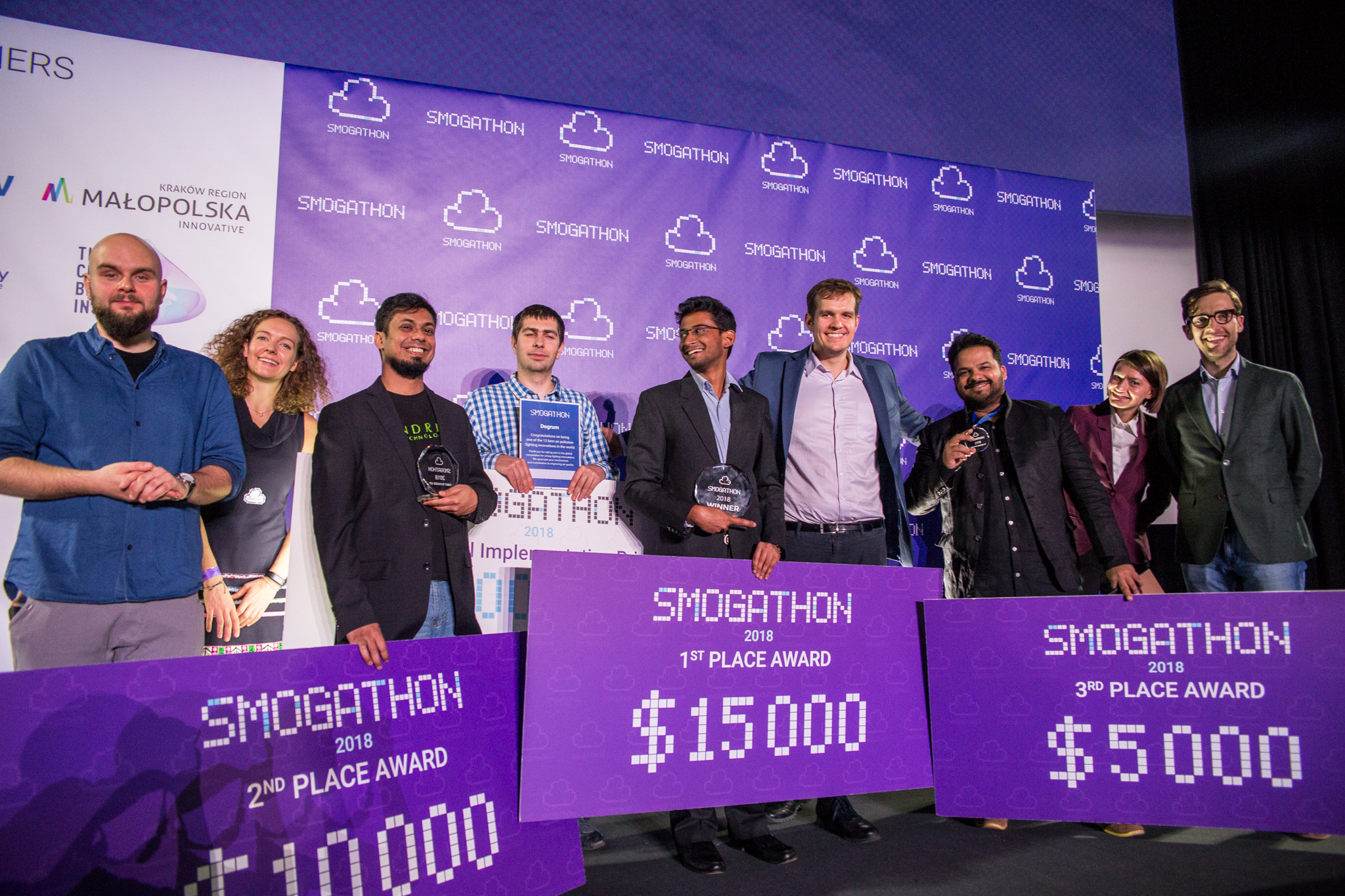 Several dozen of startups from all over the world took part in the contest. The teams competed during the semi-finals in Sao Paulo, Berkeley, London, New Delhi, Beijing and Katowice. The best 12 teams, among them those from the USA, India, China, Uganda, Chile and European countries, qualified for the Krakow finale. The Smogathon experts chose 6 teams to participate in the Grand Finale, concluding this year's edition of the event.
"Air pollution is now a problem affecting the vast majority of world population. Structural and political changes related to clean air protection come too slowly to save us from the consequences of breathing polluted air. Technological solutions can help us enjoy the better quality of life already, though they will not make the problem disappear. During the contest, we were presented with a wide scope of solutions. This diversity is valuable but it also shows that the problem of air pollution should be addressed by highly specialized measures, related to the specific sources of smog", said Kamila Knap, the co-founder of the contest.
The partners of Smogathon 2018 were the City of Krakow, Lesser Poland Voivodship, ING, Johnson Matthey, Otivin (GSK), GSK, The Clean Breathing Institute, and Philips.